Caring for Our Communities: COVID-19 Updates and Information
Masks Recommended for Our Stores
Associated Retail Operations (Macey's, Dan's, Dick's, Lin's, and Fresh Market locations) is pleased that the CDC has updated its guidance on the wearing of masks, stating "fully vaccinated people no longer need to wear a mask or physically distance in any setting, except where required by federal, state, local, tribal, or territorial laws . . ."
With this updated recommendation, Macey's, Dan's, Dick's, Fresh Market and Lin's locations will not require masks for fully vaccinated guests and team members, starting May 18, 2021. Proof of vaccination will not be required. Those who have not been fully vaccinated should continue to wear a mask while shopping with us.
We will continue to follow all national, state, and local requirements and abide by CDC guidelines moving forward. We ask our guests to continue to respect fellow guests' choices regarding mask wearing in our stores and want to thank our guests and community for your patience and commitment over the last year. We remain committed to providing all our guests a safe and enjoyable shopping experience.
Keeping You, Your Family and Our Team Members Safe
Under the guidance of local officials, we have implemented a variety of precautionary measures and will continue to do so as the situation unfolds. These include:
Employees are required to social distance whenever possible.
Employees are required to take temperature checks as they arrive at work.
Employees and vendors are required to wear a mask or face covering while at work. Read our policy here

Guests are required to wear a face covering, with exemptions for those who are medically unable to do so.
A COVID-19 emergency leave policy was introduced to assist team members if they get sick or need to care for a family member who gets sick during the pandemic.
Hand sanitizer is provided for team members for frequent use.
Carts, pin pads, and grocery belts are sanitized after each use.
All sanitizing procedures have been reinforced and cleaning has increased in frequency, including implementation of a rigorous hourly cleaning checklist for high-frequency touchpoints, like bathrooms and freezer door handles.
In-store signage communicates COVID-19 symptoms and encourages best practices.
Safety shields, a plexiglass barrier at check stands, help encourage better social distancing.
Social distancing floor graphics mark where guests should stand for proper social distancing.
As is standard practice in all food-handling departments, team members are required to wash their hands and wear protective gloves. Changing of gloves between every transaction is also a policy we have implemented in our fresh departments.
Center for Disease Control's materials are in all restrooms and breakrooms.
We suspended all sampling and sampling events in stores until further notice.
Common seating areas have been modified to encourage safe, social distancing.
We temporarily suspended the use of reusable and refillable cups in our stores.
We asked any partners or team members that have traveled internationally to not come back to work immediately following their return.
We trained and implemented step-by-step protocols for dealing with a sick team member or shopper.
Read more
How You Can Help
As you shop with us, we would ask that you: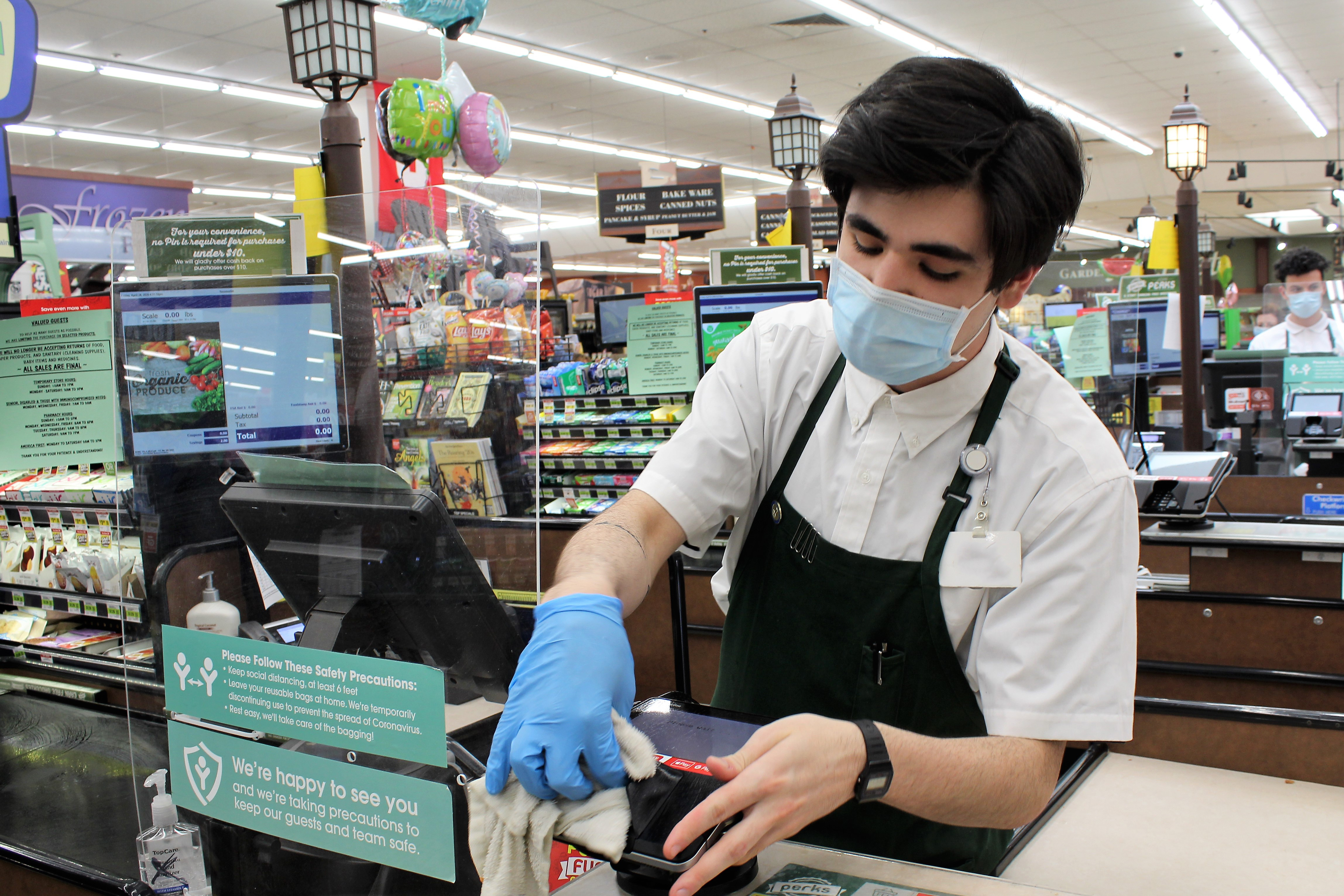 Consider wearing a mask and following all signage.
Use cart wipes on regular and hand carts.
If you are sick, we ask that you ask a friend or family member shop for you until you are well.

Avoid touching eyes, nose and mouth.
If visiting our restrooms or when blowing your nose, coughing or sneezing you wash your hands for at least 20 seconds. If the restroom is unavailable, please use one of the hand-sanitizer stations that are available throughout the store.
Cover your cough or sneeze with a tissue, then throw the tissue in the trash.
Please maintain social distance of at least six feet. Avoid shaking hands or giving hugs.
If you get sick while in the store, please leave or if emergency assistance is needed, please contact a team member immediately.
If you are uncomfortable shopping in the store, we encourage you to use our online shopping service where we offer both curbside pickup and delivery. The Skip mobile app is another option available in all our stores and can help reduce interaction with our store front-line team members. The app allows you to scan your own groceries from your phone and bypass the normal checkout lines.
Read more
Item Limits
To help as many guests as possible, we are, at times, limiting the purchase of select items in our stores based on current supply conditions from product manufacturers, growers and processors. While in-stock conditions have improved dramatically over the past several weeks, some categories will take more time to stabilize. Please watch for in-store signs showing any items that may still be impacted by limits. Our cashiers may also remind you at the time of checkout if you have exceeded the limits on any items.
Citrus Pear
Until further notice, all Citrus Pear classes have been cancelled to maintain the safety of our guests and team members.